The TonsBridge school is a premier school in Dehradun inaugurated by Dr. APJ Abdul Kalam. Established in 2013, The TonsBridge school aims at providing best holistic education in Dehradun and preparing children for the challenges in life. With lush green natural environment spreading over 18 acre campus, The TonsBridge school offers education from KG to Class 12 and affiliated to Central Board of Secondary Education, New Delhi.
The TonsBridge school in Uttarakhand has set up a benchmark in education in Doon valley by adopting the latest education technology and tools to give the best teaching through a smart class system. This Dehradun school provides a personalized and encouraging environment to make child learning an educative process and creating the best future for them.
The TonsBridge School is coming up with world class residential facility from session 2024-25. Registrations are open.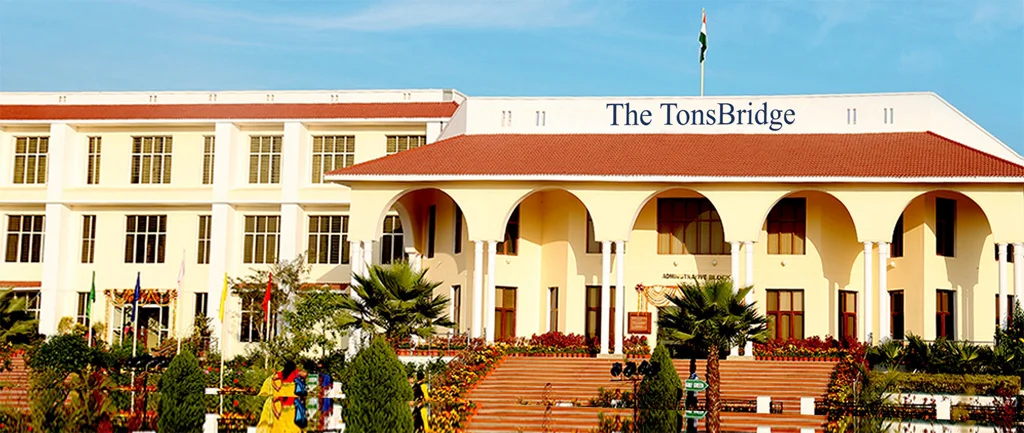 Affiliation of the school
The TonsBridge School is affiliated with the Central Board of Secondary Education (CBSE), New Delhi.
Location of The TonsBridge School
The TonsBridge School's large sprawling 18 acres campus is located 1.5 km from Nanda ki Chowki near Premnagar Dehradun.
Academics in The TonsBridge School Dehradun
The TonsBridge School imparts quality education from KG to Class XII. English is the medium of instruction throughout the school. High importance is also given to the Hindi language ensuring good proficiency in each child. As a third language, Sanskrit and French are taught in middle school.
Subjects in Class X: English, Hindi, Social Studies, Mathematics, Science, and Computer Science.
Subjects in Class XII: This CBSE school in Dehradun has three streams - Science, Commerce & Humanities. The schools offer a wide range of subjects in each stream and students have the option to choose between Physics, Chemistry, Biology, Mathematics, Computer Science, History, Geography, Economics, Psychology, Political Science, Hindi, Commerce, Accounts and Physical Education.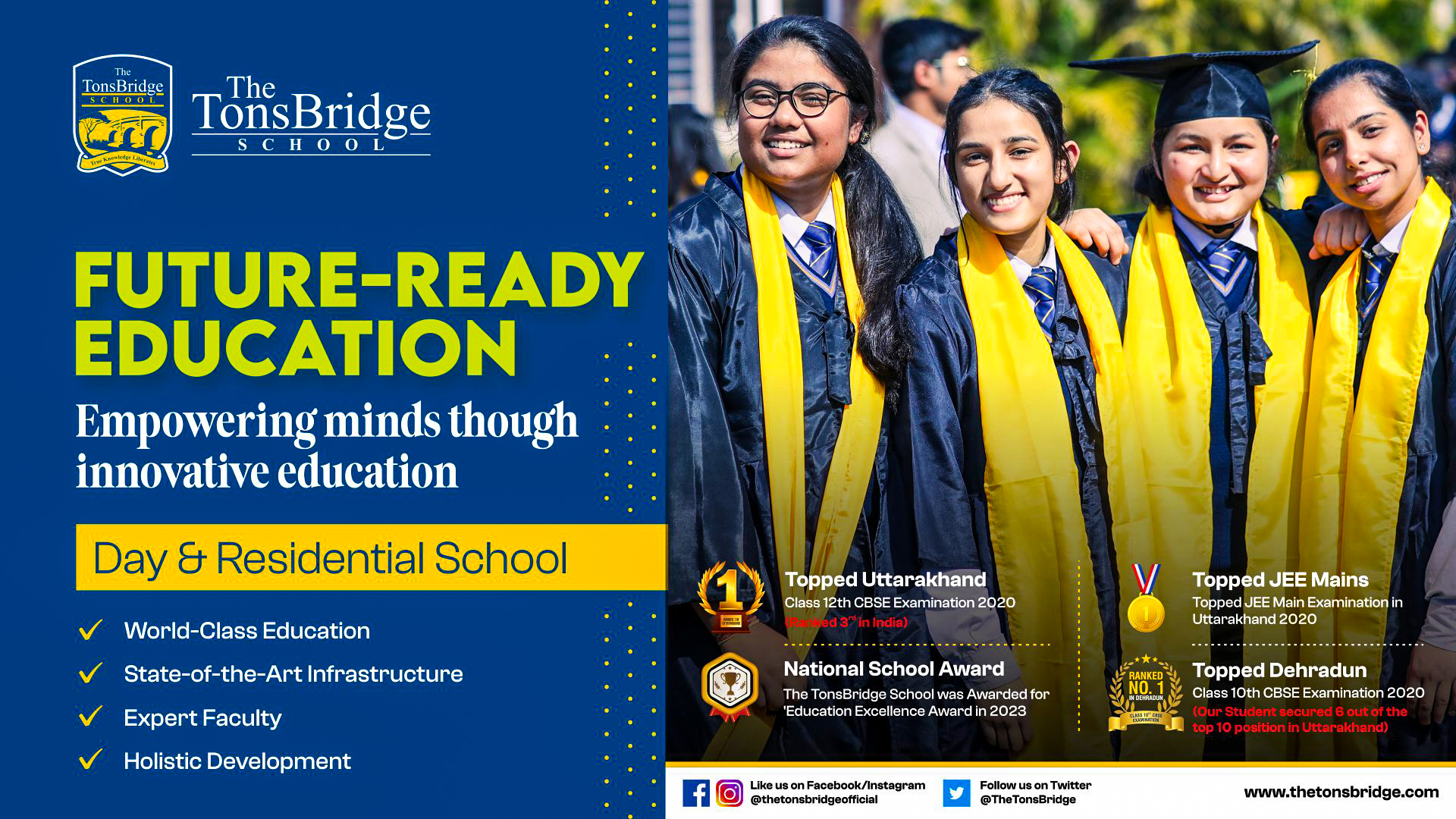 Facilities in The TonsBridge School Dehradun
Classrooms: All classrooms are spacious, well-lighted, and have comfortable sittings. Maximum strength has been kept at low as 35 students per class.
Library: This CBSE school has a well-stocked library filled with reference books, journals, and other interesting books for reading, research, and in-depth study.
Laboratories: The TonsBridge school has well-equipped laboratories for Physics, Chemistry, Biology, and Computer Sciences. The school also equipped with Smart Class technology and uses audio-visual teaching aids.
Multi-Purpose Hall: This boarding school in Dehradun has an all-weather multi-purpose hall with a capacity of 2000. The hall is the place where many activities carried over round the year.
Semi-Olympic size Swimming Pool: The place where students constructively utilize their leisure time.
Sports: The schools have a wide range of sports activities with all the necessary infrastructure. To keep children Physically and mentally fit along with regular PT and Yoga sessions, there are sports facilities for Cricket, Football, Badminton, Basketball, Roller Skating, Chess, Carrom, Table Tennis, Swimming, Athletics, Karate, Lawn Tennis, Horse Riding, etc. For kids, there is a play station and toy train as well.
Transport Facility: This boarding school in Uttarakhand has a fleet of buses to transport students to and from the school. All buses are equipped with CCTV and GPRS facility along with Bus Hostesses to take care of every child from the time he/she boards the bus to the time of disembarking.
Co-Curricular Activities
The TonsBridge school conducts regularly a wide range of co-curricular and extra-curricular activities like debating, quizzing, drama, yoga, elocution, computers, art & craft, painting, pottery, roller skating, dance, music, etc. Also, students can opt for the Heritage, Literary, Economics, Math Magician, Artisan, MUN, Performing Arts, Scientific, Nature and Inquisitive Clubs, Robotics, Programming, Designing, Artificial Intelligence.
The TonsBridge School In Dehradun Admission Procedure
The TonsBridge school admission process hasno written test for classes KG & Class I, only informal interaction is being taken for admission.
For K.G : Age should be 4+ years as on 31st March of the year of admission.
Class 1 : Age should be 5+ years on 31st March of the year of admission.
For Class II onwards, admission is done by an interview and written test of English, Hindi, Mathematics. Also, other criteria for child assessment for admission is also taken into account such as
Academic readiness and motivation.
Social and emotional development.
Family co-operation in working with the school and meeting the needs of the students.
Ability of the school to serve the needs of the child.