Vantage Hall Girls' Boarding School in Dehradun is a newly built girl residential school in Dehradun. Located in salubrious lush green hills in Doon valley, the school has beautiful 12 acres campus with world-class infrastructure facilities.
Vantage Hall Girls' Residential School in Dehradun has the best global standard academic facilities, eminent personalities on advisory board and elite school design partner Education Design Architects. The school offers a new age learner-centered design with Learning Studios and Suites and many more world-class benchmarked features. The eco-friendly design, furnishing, and construction of the school make it a place of a healthy environment. The school will be affiliated to the CBSE, New Delhi.
Vantage Hall Girls' Residential School Dehradun Curriculum
This School in Uttarakhand Curriculum is well balanced and based on multiple aspects of development. Student-centric academics are designed to make the available maximum number of activities so that she can later select the one suited to her taste, interest, and talent. The School is affiliated to the Central Board of Secondary Education (CBSE), New Delhi. Central Board of Secondary Education has been at the forefront of recent education reforms and keeping in line with its philosophy of keeping pace with changing times.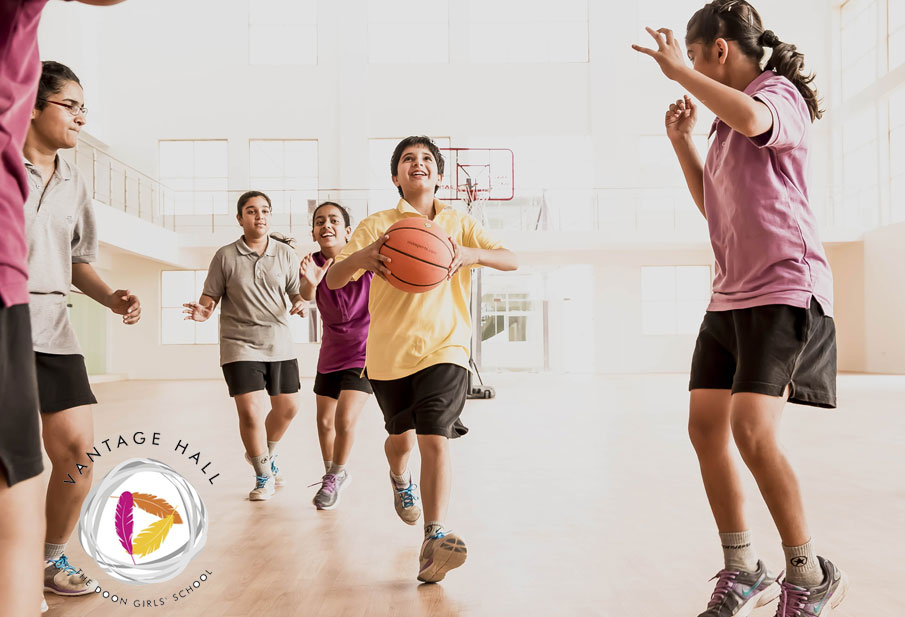 Facilities in Vantage Hall Girls' Residential School Dehradun
This CBSE school in Dehradun provides international standard facilities in Sports, education, Arts, Boarding, Food, etc.
Sports: Indoor Basketball court, Squash, Badminton, Lawn Tennis, Swimming Pool, Shooting Range, Golf, Soccer, Hockey, Cricket, etc
Arts: Dance studio for Indian, folk and western dance, Studio Theatre, Music Studio, Vocal Studio, Art & Craft, Fashion Design Studio, Outdoor Amphitheater
Boarding houses, medical care, security, food & nutrition
Admission in Vantage Hall Dehradun
Admission in the Vantage Hall Girls Boarding School in Uttarakhand is done by them after submission of registration/admission form with the following documents:
Date of Birth Certificate issued by Government
Academic transcripts of class last attended
12 recent passport size photographs
Photographs of parents/ local guardian
Copy of Passport/ resident permit (for foreign students)
Duly filled Admission forms(provided by the school)
Transfer certificate from the last school attended
Supporting prescriptions of Medical history if any
Following is the admission procedure in the school :
Aptitude and Proficiency Analysis
Interview
Parent Questionnaire
Investment in daughters future (Fee Discussion)