Updated (14 Dec 2021)
The Supreme Court today cleared the way for widening of roads as part of the Char Dham project, agreeing with the government's arguments that wider roads in the area were of strategic importance. The court had earlier put a maximum limit of 5.5m width of roads for the project.
The court also acknowledged the petitioner's environmental concerns, and said it was forming an oversight committee to be headed by a former judge of the top court - Justice AK Sikri. This committee - which will report to the Supreme Court every four months on the project's progress will also have representatives from the National Environmental Research Institute and the Ministry of Environment. Its objective is to ensure implementation of existing recommendations.
Src: Excerpts from NDTV
Updated (03 Sep 2021)
The larger part of road widening project has been completed. However, during the monsoon, even the widened roads are experiencing landslides year after year at few patches.
Between the clamour and furore for the preparation of 2017 Assembly elections in Uttarakhand, prime minister Narendra Modi launched central government's ambitious 'Char Dham Highway Development Project' or 'Chardham Mahamarg Vikas Pariyojna' while addressing to the folks of Dehradun during his rally at Parade Ground on 27th Dec 2016. "This project is a tribute to those who lost their life during 2013 Kedarnath disaster", he said.
What is Char Dham Highway Development Project of Uttarakhand?
Chardham Mahamarg Vikas Pariyojna is a project of central govt. to improve the existing condition of Highways in Uttarakhand. In this project, the govt. will upgrade and develop the road which connects all four 'Dhams' i.e Gangotri, Yamunotri, Kedarnath and Badrinath. The 12,000-crore dream project will turn 1100 km damaged highways of Uttarakhand into all seasons road. The project is divided into 7 packages which involve Tanakpur to Pithoragarh highway too.
Why this project was the die-hard need of Uttarakhand?
Known as Devbhumi, Uttarakhand is famous for its noted temples and heavenly destinations. Chardham and Hemkund Sahib Yatra is the backbone for Uttarakhand tourism and its economy.
Every year lakhs of pilgrims, adventure enthusiasts and other travelers visit Chota Char Dham, Hemkunt Sahib, Auli, Valley of flowers etc. because of damaged roads, landslides and accidents, many people lost their life every year in Uttarakhand.
This project will play the vital role in travel safety and the development of the state.
Benefits of Char Dham Highway Development Project:
It will boost the economy and industries related to travel in Uttarakhand.
Decrements in the numbers of road accidents.
Two lane road, bridges and tunnels will decrease the overall time (30% to 40%) of travel and fuel cost.
New signboards and security measures help drivers to drive more safely.
It will develop the trust and security between pilgrims and travelers for a safe journey.
New jobs helps local folks to make them financially strong which will decrease the migration.
It helps army in the security of Indian border along with China.
Highlight of Char Dham Highway Project:
A team of 'Ministry of Road Transport and Highways' under the supervision of cabinet minister 'Nitin Gadkari' has designed this project. It was first announced by him in Jan 2015. The highlight of Char Dham Development Project are:
The cost of the total project is about 12,000-crore which is divided into 7 Packages.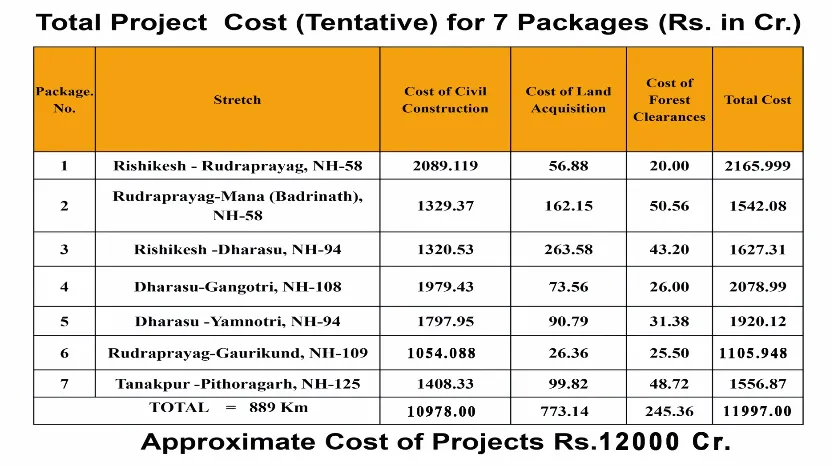 The 7 Packages of Char Dham Highway Project are divided between 9 destinations that are: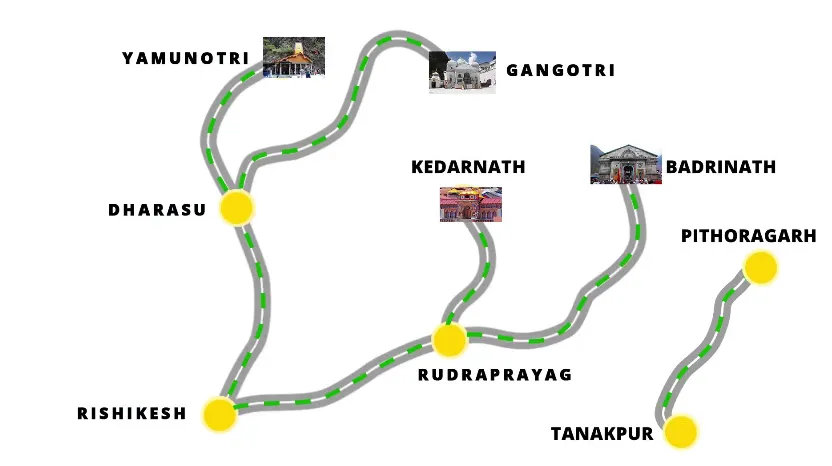 Line Diagram of Seven Project Roads of Uttarakhand: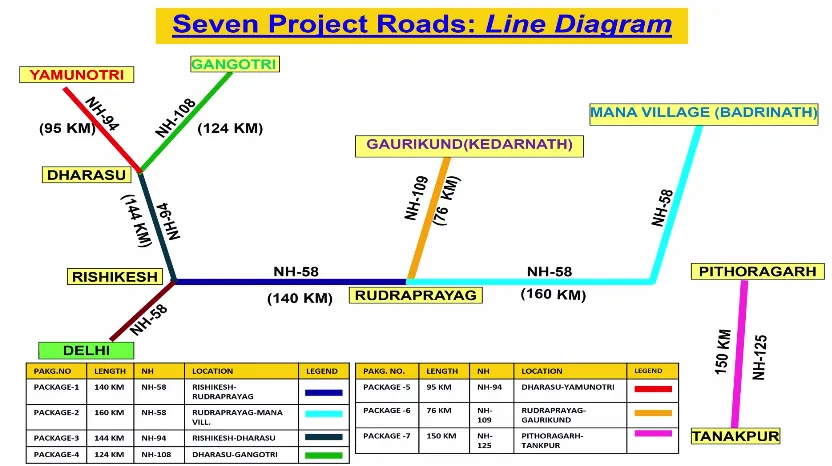 A Survey team of central Government has submit their reports keeping in mind below works: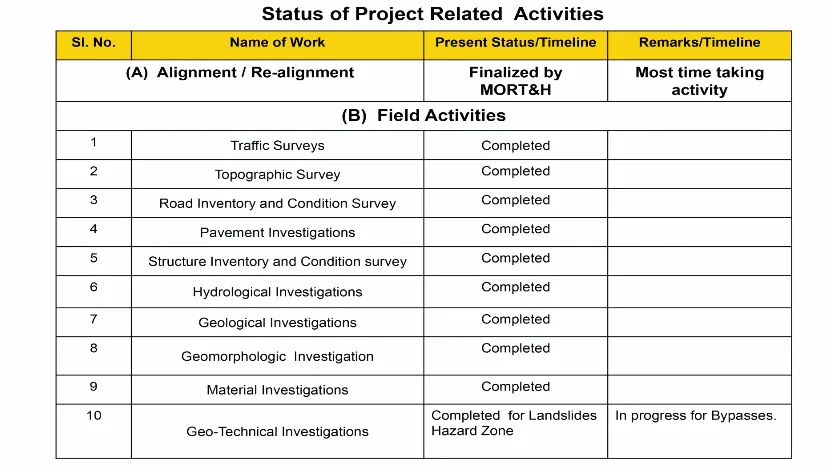 900 km roads will be upgraded under this project, which connects all four Char Dham:

Around Rs 3,000-crore project of this Char Dham Highway Development has already been sanctioned and tenders awarded.
Project includes widening of current geometrically deficient highways of Char Dham circuit, stretching and improvement of 900 km highway into two-lane carriageway with paved shoulders.
The project involves a series of 132 bridges, which includes 25 high flood level bridges.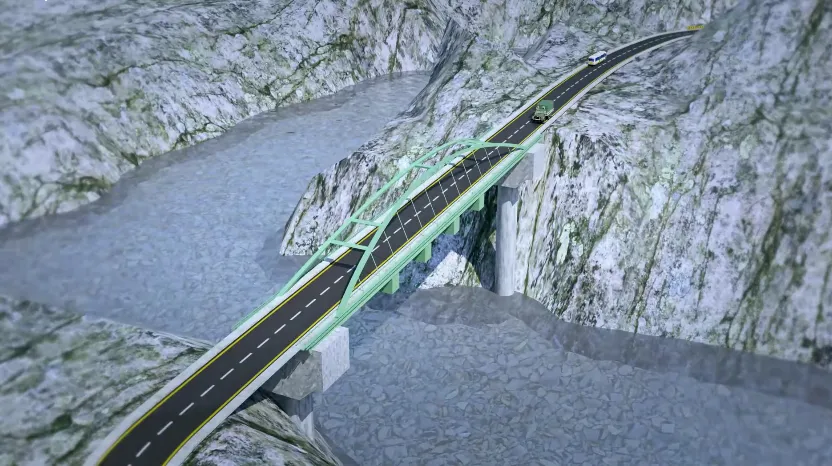 13 bypass and elevated corridors of this project helps cities to make them jam free.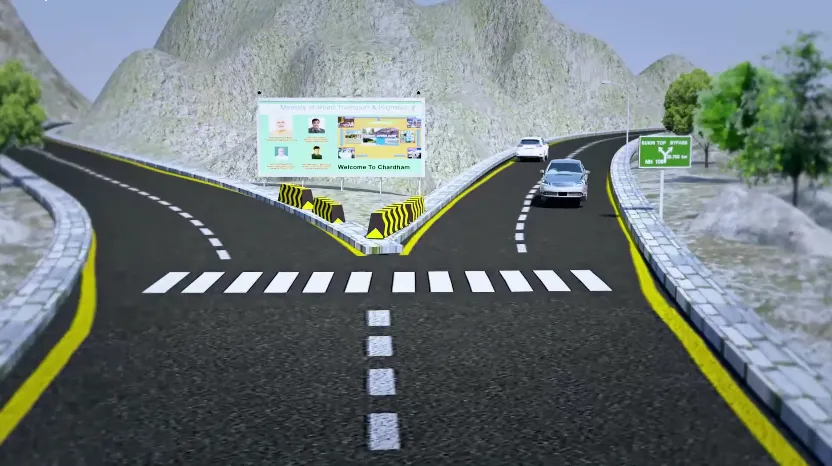 Monsoon season is the most harsh season to travel in Uttarakhand, small and big river stream are responsible for damaging of most of the road in hills. River protection walls in possible zones, 3889 water vert will play a vital role in the safety of these highways.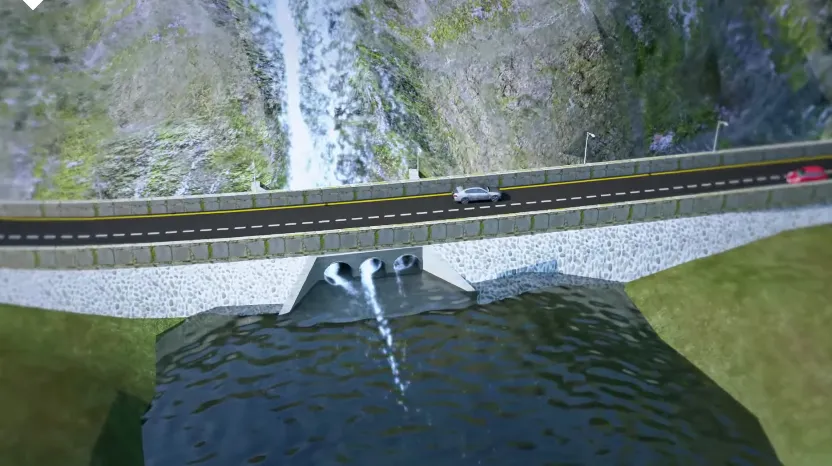 Apart from this, this project also involves protection of landslide hazards and shrinking zones with the help of steel nets, soil kneeling, gabion walls, square mess vegetation and advance technology like geosynthetic treatment.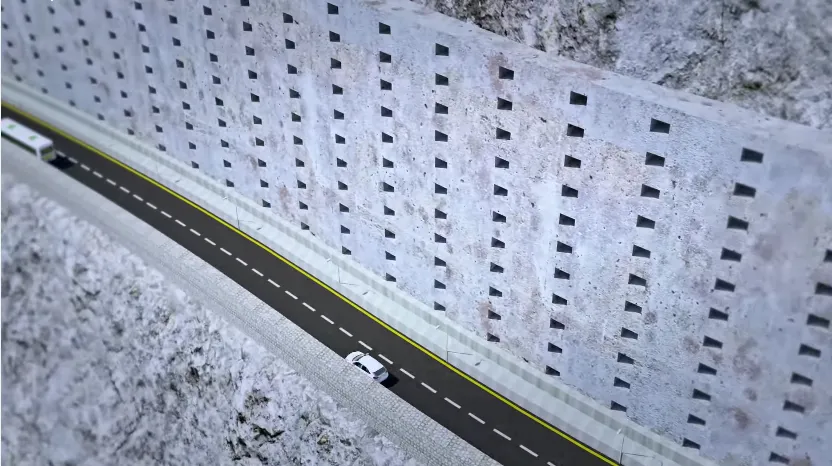 The project also includes the construction of 4 viaduct in which 775 meters long mountain via viaduct on Songanga river will uplift the highway to 25 meters!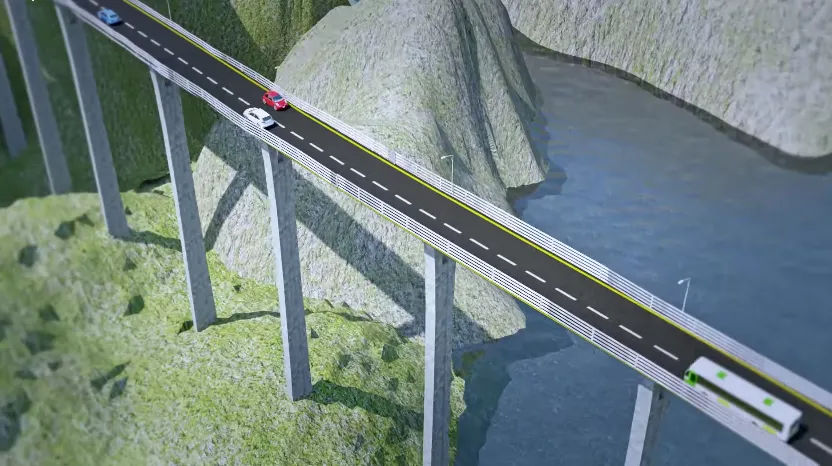 Two tunnels are also the part of Char Dham highway project which will decrease the 25.5 kilometres distance of these highways which will make roads eco-friendly and reduce the wastage of fuel and time.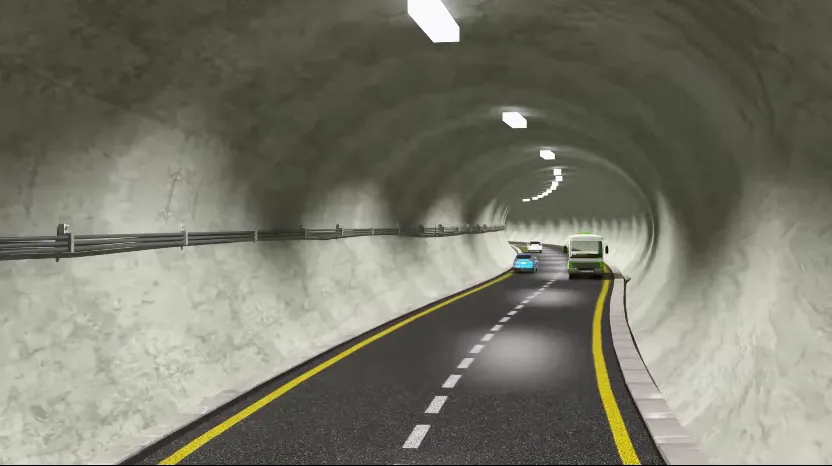 Apart from these, construction of emergency lay bays, 18 road side amenities and 145 bus bays are also the part of this project which turns the tired and hectic journey into a comfortable one. Along this, 9 truck bays will play an important role in the business development of the region.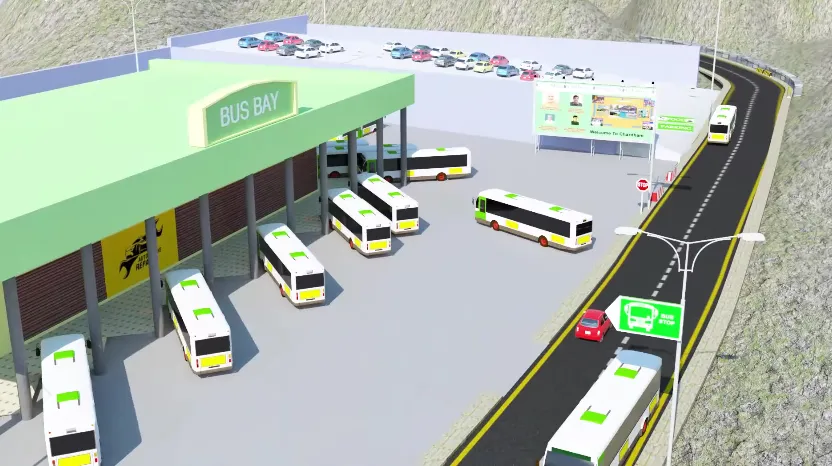 The seven packages of this project will start from Rishikesh, details of these projects are:
i) Rishikesh to Rudraprayag | NH-58 | Distance 140 km | Cost - 2166 cr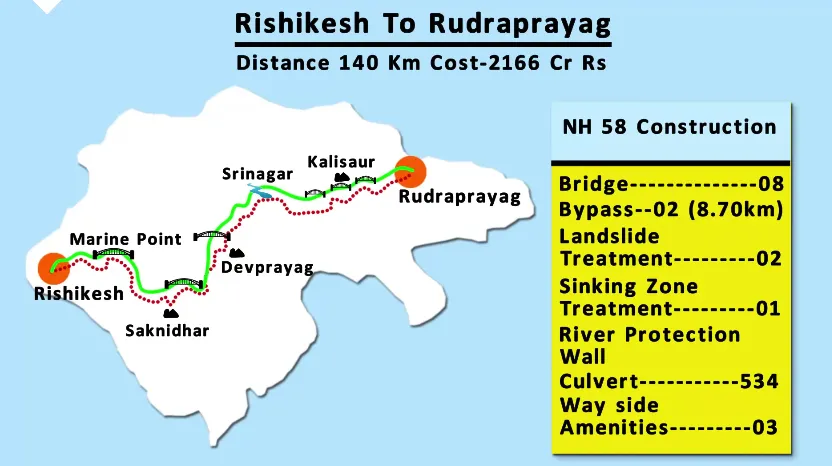 ii) Rudraprayag to Mana Badrinath | NH-58 | Distance 160 km | Cost - 1542 cr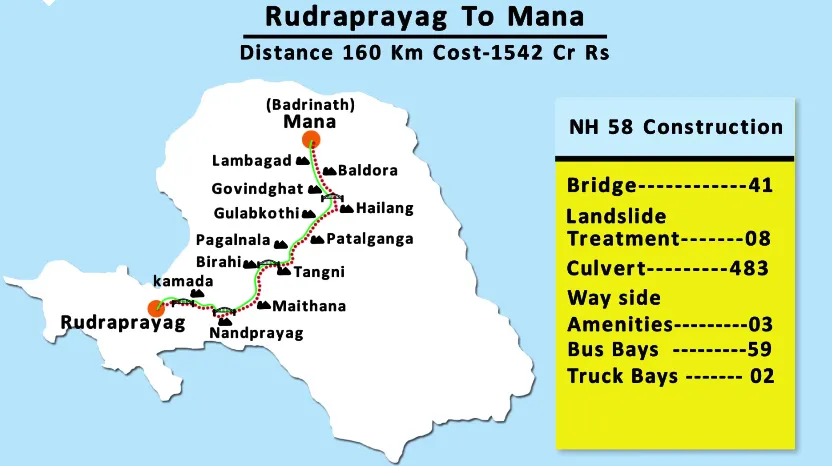 iii) Rudraprayag to Gaurikund | NH-109 | Distance 76 km | Cost - 1106 cr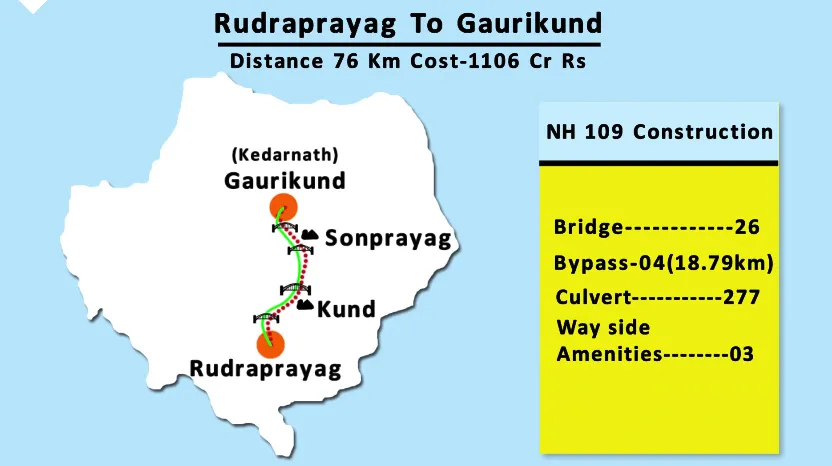 iv) Rishikesh to Dharasu | NH-94 | Distance 144 km | Cost - 1627 cr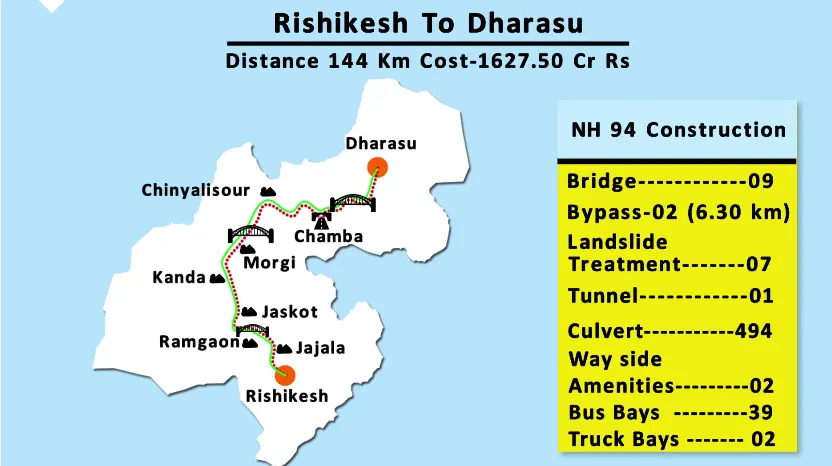 v) Dharasu to Yamunotri | NH-94 | Distance 95 km | Cost - 1920 cr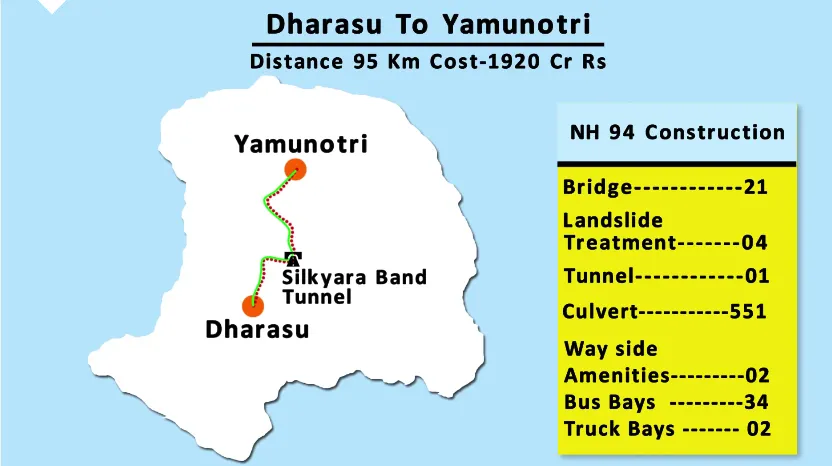 vi) Dharasu to Gangotri | NH-108 | Distance 124 km | Cost - 2079 cr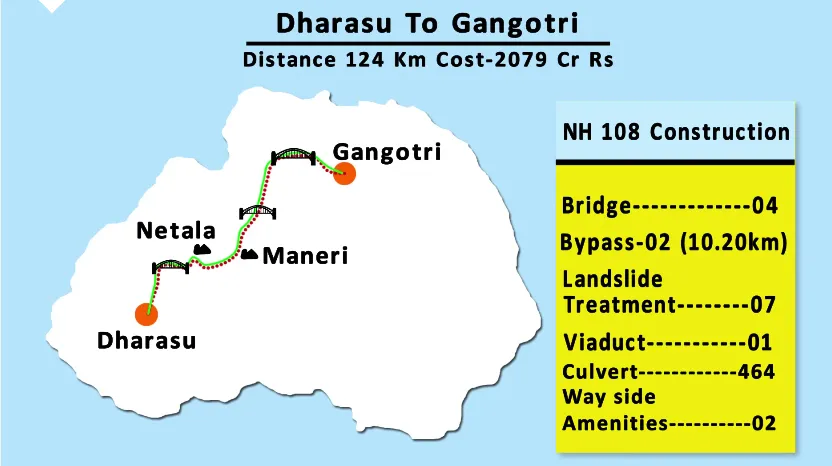 vii) Tanakpur to Pithoragarh | NH-125 | Distance 148 km | Cost - 1557 cr ( Kumaon Region )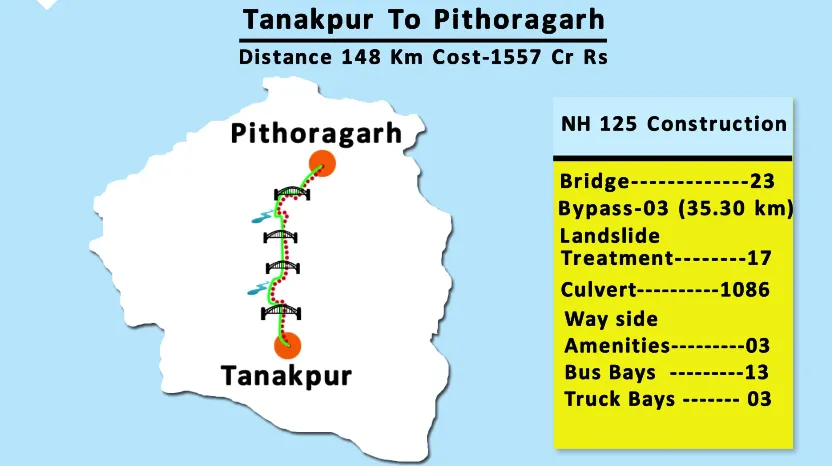 Apart from development of highways this project also includes:
Land acquisition and
Rehabilitation of affected population.
Possible cons of 'Char Dham Highway Development Project' :
Uttarakhand is always a hot discussion between environmentalists as it is the part of the Himalayas, the region is highly sensitive zone with fragile ecosystem, which faced several natural catastrophe in recent years. We can say that it is a straight destruction of Himalaya. The discerning of environment are blamed to the newly constructed dams, roads, hotels etc directly. However, without drilling the mountains, progress of this project is impossible. The possible cons of this project are:
Hills of Uttarakhand are not as stable as in Jammu & Kashmir or Himachal. Widening of roads can increase the rate of landslides, specially in monsoon season. Kedarnath disaster is the recent example of how instant rain can effect these mountains.
Good road and infrastructure will boost the tourism sector which increase the number of travelers in untouched and virgin areas of Uttarakhand vice versa it can spoil the real beauty of Himalayas and fill it with plastic bags and bottles.
More number of vehicles and tourists in the area will increase the temperature of the region, which simultaneously increase the rate of melting of glaciers.
This project attracts the investors from around the world to do business in local region, which increase the numbers of hotels, shops, local businesses etc in the far flung areas. People will sell their farming land to them for business and instead of using traditional method like using their home grown food and resources. People will have to directly depend on markets.
This also increase the waste and garbage in the region which directly pollute the rivers like Ganga and Yamuna.
It also increase the population of peoples in the local region but basic facilities like hospitals, schools, connectivity, gas agencies are not available there. It can unbalance the ratio of forest resources v/s people which will directly effect the Eco-system.