Sanskar Yogashala is a Yoga School located in the Yoga Capital of India, Rishikesh, Uttarakhand. Sanskar Yogashala has been providing Yoga education for more than 15 years. The teachers in the Yogashala are well qualified and experienced yoga practitioners. The teachers have over 14+ years of experience in teaching yoga in India as well as in other countries. Sanskar Yogashala in Rishikesh is the perfect place to learn yoga while experiencing a daily yogic routine in a clean and tranquil environment. The mission of the Sanskar Yogashala Yoga School is to spread the knowledge of Yoga throughout the world.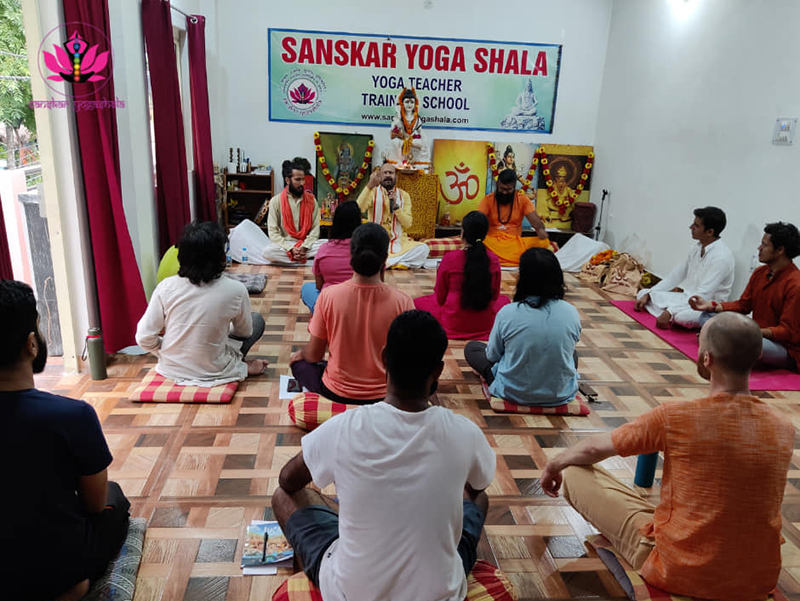 Sanskar Yogashala offers 100 hours, 200 hours, 300 hours and 500 hours Yoga Teacher training certification courses registered with Yoga Alliance USA in Rishikesh, Dharmashala, Goa (India) and Thailand. Along with these, the Falgship courses of Sanskar Yogashala are Kundalini Yoga courses. The Kundalini courses include 10 days Kundalini Yoga course, 20 Days Kundalini courses Yoga TTC and Kundalini Yoga Retreat. There are also various Yoga retreat courses offered by the Yoga School. The Yoga School also organises free yoga education for kids, in which foundational knowledge of yoga is offered to the kids.
Courses at Sanskar Yogashala, Rishikesh
Complete details of the courses are given below:
Yoga Teachers Training Courses (YTTC)
Duration
Fees
100 hours YTTC
12 Days
500 USD (Shared Room)
700 USD (Private Room)
200 hours YTTC
24 Days
1000 USD (Shared Room)
1200 USD (Private Room)
300 hours YTTC
29 Days
1300 USD (Shared Room)
1500 USD (Private Room)
500 hours YTTC
50 Days
2000 USD (Shared Room)
2200 USD (Private Room)
Kundalini Yoga Courses at Sanskar Yogashala, Rishikesh
Kundalini Courses
Duration
Fees
10 Days Kundalini Yoga Course
10 Days
500 USD (Shared Room)
700 USD (Private Room)
20 Days Kundalini YTTC
20 Days
1000 USD (Shared Room)
1200 USD (Private Room)
Kundalini Yoga Retreat
7 Days / 14 Days
450 USD per week
Other services of the Yoga School include Yoga Retreats such as Himalayan retreat in Himalayas, Meditation retreat in Rishikesh, Spiritual Retreat in Rishikesh, Five Kosha Retreat in Rishikesh, Prana Yoga Retreat in Rishikesh, and Yoga courses in Goa.
Features of Sanskar Yogashala's Yoga Courses
Yoga Alliance certified courses - All the Yoga courses offered by the yoga School are Registered with Yoga Alliance. Successfully completing the course and obtaining the certificate can allow you to become an RYT (Registered Yoga Teacher). After becoming a RYT, you are eligible to teach Yoga at Yoga Schools.
Accomodation with Meals - Once you have registered for yoga courses offered by Sanskar Yogashala, you will be given accommodation at the ashram and a healthy yogic diet. The Yogic Diet will include vegetables, fruits, juice, herbal tea, and snacks.
Massage - Ayurvedic Massage with herbal oils will be given during the yoga course. The massage is generally required to create balance among mind, body, and spirit. Massage aids in the healing of the body by releasing muscle tension, increasing blood circulation, and nourishing the skin from head to toe.
Activities - Participants of the yoga courses, along with yoga activities, also indulge in other activities such as social activities, adventure activities, and excursions.
Facilities at Sanskar Yogashala, Rishikesh
Free pick-up (Dehradun Airport to Yoga Ashram)
Yogic food & clean Accommodation
Soups & Herbal tea
Ganga Aarti
Satsanga (devotional concert)
Sunrise Trek Kunjapuri Temple
Cleansing process
Course materials & books
Free Wi-fi available at the Yogashala
2 Sunday Excursions
Juices & Herbal tea